---
We are a private, special education school, subsidized by the government, offering educational and therapeutic services in English and French for students ages 4 to 21 with an Autism Spectrum Disorder (ASD).

We also house a Resource and Training Centre (lending library, consultation services, workshops, etc.)

We are located at 5460 avenue Connaught, in NDG, Montreal, Quebec.

The school day runs from 9:15 a.m. to 3:45 p.m., Monday to Friday.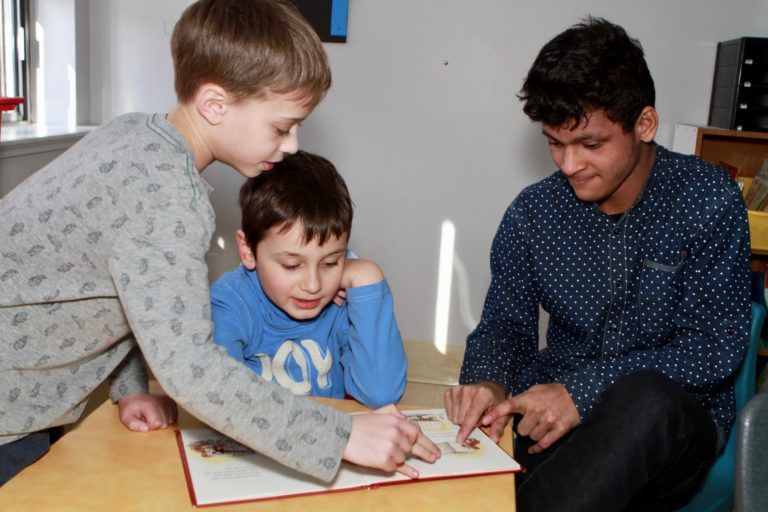 Q: How many students and classes do you have and what is the ratio?
---
We currently have 90 students divided into English (students must have a certificate of English eligibility for instruction in English) and French classrooms. Class sizes range from 9 to 12 students. There is a minimum of three staff members – teacher, educator and attendant – in every classroom. We have a positive behaviour support team in place to assist the classes and we often have interns doing their placements with us throughout the year as well.
Q: What services do you offer?
---
We offer a comprehensive educational and therapeutic program including : an individualized pedagogical program, speech therapy, occupational therapy, music therapy, dance therapy, life skills, social skills, computers/technology and psychology. We host other programs for student enrichment (e.g.: Dr. Clown, Chindai, etc.).
We offer an inclusion program which allows many of our students to attend their community school (accompanied by a Giant Steps educator) an average of two days per week, between October and April of the school year. The inclusion program offers students an opportunity to learn and interact with their neurotypical peers in a regular classroom setting. Students aged 16 and up take part in student community work inclusion programs.
Q: What program/curriculum do you follow?
---
All students follow a ministry approved curriculum based on their personal needs.
Preschool students follow the Quebec Education Program – Preschool Education (section for preschool education 4 years old and for preschool education 5 years old). This is for students who are 4 or 5 years old on September 30th.
Primary school students follow one of two programs, either the regular Quebec Education Program (modified to students' needs) or the CASP Education Program – a Competency-Based Approach to Social Participation (for students with a moderate to severe intellectual disability). This is for students who are 6 to 11 years old on September 30th.
Secondary Cycle 1 students follow the CASP Education Program – a Competency-Based Approach to Social Participation (for students with a moderate to severe intellectual disability). This is for students who are 12 to 15 years old on September 30th.
Secondary Cycle 2 students follow the Challenges Program – an Educational Approach that Facilitates Social Integration. This is for students who are 16 to 21 years old on September 30th.
---
For new and returning students, the registration fee is $200 annually, payable before the start of the school year. There are additional fees for lunchtime supervision, accessory fees and Parents Committee fees totaling $955, which are usually divided into three installments, payable throughout the year.
Additional costs (which are usually optional) include:
School outings
Additional private therapy (before and after school)
Before and after school program
Q: Is there a possibility of my child reintegrating into a regular school?
---
We strongly believe that any student that is able to be integrated into their community school should be. Our goal is to, where possible, prepare students for a transition back to an inclusive classroom.
---
The first step is to print and fill out the application form and submit it (by regular mail, e-mail or fax) along with the diagnostic report and any other pertinent reports (speech, OT, etc.).
If you are already part of a school board, we encourage you to communicate with the educational consultant there regarding a referral to our school. This referral is helpful but is not an integral part of the application process, and a lack of referral does not prevent you from starting the process.
We accept applications year-round, however, the deadline to be considered for the 2018-2019 school year is March 29, 2018.
Q: Is there a waiting list?
---
It is not a traditional first-come, first-served waiting list. We review files according to the available spots for that particular year. For example, if there is a spot available in an English-speaking classroom for a student around the age of 5, all corresponding files will be considered. You should hear from us by the end of May, whether your child has been selected for an evaluation or not.
Q: How do you decide which students are accepted?
---
A primary diagnosis of autism is necessary in order for the child to be considered for admission. The child must be at least four years old on September 30 of the intended school year.
We welcome students with varying degrees of autism. We are looking for the best fit for both your child - taking into account his/her needs - and the classroom and will try to place students in classes with similar needs and ages.
Because we have a limited number of spots available from year to year and the number of applications typically outweighs the availabilities, not all children will be called in for an evaluation and this may simply be due to the age or language of instruction in relation to the spots we have available that particular year.
If your child appears to be a potential candidate for our program, we will contact you to set a date for your child's evaluation by our team of therapists and specialists. You will be notified of your child's acceptance or refusal at the end of the evaluation period.
*If your child was not selected for an evaluation, or if your child was evaluated but not accepted, it does not mean he/she cannot be considered for the following year. Parents must contact us in February or March of the following year if they wish for the file to be reconsidered and remain on our active waiting list.
Q: Is transportation available?
---
The school itself does not provide transportation, but transportation services are made possible through interboard agreements with certain school boards.  Not all school boards will offer the service, so we suggest that you consult your school board and consider alternate modes of transportation. There is a before and after-school service available if needed.
Q: I will not be submitting an application for my child but I am interested in supporting your school's work and mission. How can I help?
---
---
Donations are always appreciated. Although we are a publically funded private school, in order to offer the programming that our students need, we are still required to fundraise around 20% of our annual operating costs and rely on generous support from the community. The Foundation organizes several key events throughout the year (e.g.Charidy, auction, etc.) and other smaller projects to raise funds for the school. We are always looking for community third party events (golf tournaments, galas, etc.) that can support our fundraising efforts.
If you would like to make a donation or have an idea to discuss, please contact the Foundation director, Tracy Pennimpede, at 514-935-1911 ext. 226 or at tpennimpede@giantstepsmontreal.com
Resource and Training Centre
---
The Resource and Training Centre offers services and support to the autism community and is open to the general public by appointment. The Centre has a resource lending library and offers training and consultation services.
For more information or for volunteer opportunities, please contact our coordinator, Marla Cable, at 514-935-1911 ext. 237 or at mcable@giantstepsmontreal.com
Have a question that isn't answered here? Click on Contact at the top of the page and send us a message. We would be happy to get back to you.